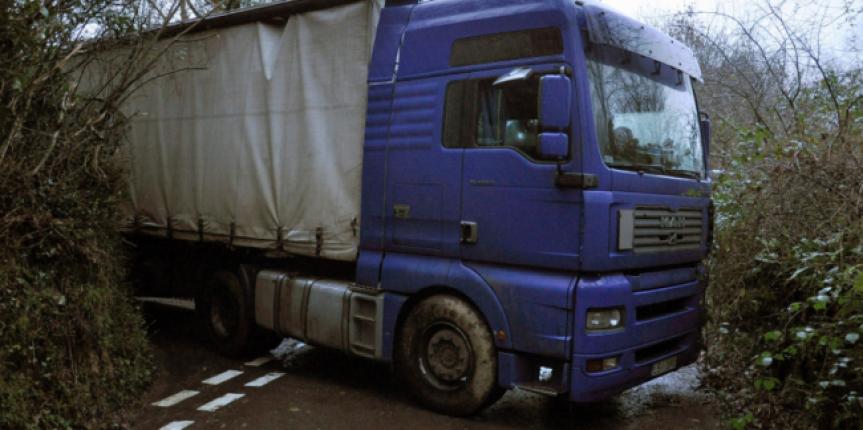 Sat Nav or the old grey matter
We hear lots of stories about truck drivers getting stuck down narrow country roads or under low bridges after following the sat-nav that was designed with a car driver in mind. who knows how many truckers have been subjected to the canteen banter early on a Monday morning after relying on the sat-nav instead of using the traditional method of a map book, even more so how many drivers jobs has sat nav been responsible for taking!
Most haulage companies will have a variety of age throughout its fleet and you wold probably expect the older generation of drivers to religiously use the map book as they have done for numerous years and the younger drivers to be reliant on the technology on the dash, the older drivers do tend to favour the older trucks as well and the younger drivers want all the mod cons today's vehicles have to offer.
More recently though there have been calls to develop a sat nav solution that will help truckers overcome the issues, the technology must surely be there and it's quite obvious there is a market for a system designed around truckers given the size of the industry.
Tom Tom, the sat nav people have been hard at work with industry chiefs and have developed TomTom PRO7100 Truck, this system is designed with today's tucker in mind, available now from the Freight Transport Association (FTA), the device seems destined to conquer the problems caused by lorry drivers using standard sat nav systems.
We recently came across an article on Motor Trade News and the FTA's Head of Road Freight Policy James Firth, was talking about the issue of sat nav, James said: "Obviously, FTA wants to ensure that the products it stocks are top notch so, without any governmental influence, we worked closely with the satnav industry over the past few years to develop and refine a better 'truck-nav'; the TomTom PRO7100 Truck is it. This particular unit has been rigorously tested by FTA and, following a recent plea from the transport minister for government to engage with sat-nav companies to solve the problem of inappropriate sat-nav routing, we hope this helps to reassure Government that a perfectly robust solution already exists"
It seems that in the not too distant future that other sat nav companies will jump on board and over the next few years there will be a whole range of trucker friendly sat nav devices on the market.