Fuel costs hit us all in the pocket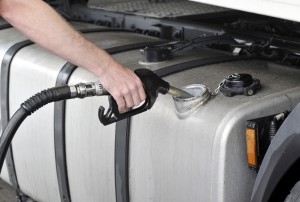 As a general haulage company one of the biggest expenses is fuel. The cost of filling up heavy goods vehicles over recent times has soared through the roof and it still continues to increase. Most companies and traffic departments have to still do their best to keep prices competitive and routing vehicles in ways to keep the fuel price increases away from customers becomes essential and a large area to focus on.
Haulage companies also have to constantly be aware of thieves, fuel theft is again on the increase and with vehicles staying out the majority of the week they are often targets for thieves. The damage caused by people stealing diesel can be massive, the thieves will often drill a hole in a tank and drain the fuel, this is very dangerous for themselves and for the innocent driver sleeping in the cab and the tanks on some HGV's are very big, to replace one of these and replace the diesel that was in it could cost thousands of pounds.
Most drivers will try and get to a secure truck stop where they can get a good meal and a shower and often socialise with fellow 'truckers" but this isn't always possible with strict tachograph laws and working regulations they may be stuck in a lay by or on an industrial estate where they are then vulnerable, even the motorway service stations aren't the safest of places.
All in all truck driving is a difficult job, drivers work long hours, alone and are usually away from home the majority of the week, add to this the risks we have mentioned earlier in the article and the job sounds like hell, but you ask any driver what they think and the vast majority of them wouldn't change it for the world, it is a way of life, many of them have done nothing else, they were taught the ropes by their fathers who were taught by their fathers, driving really is a love affair.