General Haulage services up and down the UK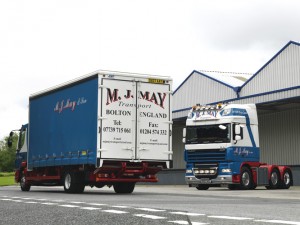 The Land's End to John O'Groats route is a famous one. People from all over the world come to the UK in order to walk it, run it, cycle it, try it out for themselves. It's an impressive feat, getting from one end of the country to the other – that's a wearing 874 miles (or 1,407 kilometres). Imagine doing that for fun; plenty have! And then imagine doing it – or something very similar – for a living. That's the haulage business.
When it comes to general haulage, whether the goods are hazardous chemicals, time sensitive packages, or a simple point to point delivery, haulage companies make it their business to deliver it safely and on time. That's the nature of the job; if that can't be done, then it's time to find a better hauler!
The difference between a journey from the bottom to the top (or the top to the bottom, come to that), of the UK for fun and pleasure, and the same sort of trip for business, is that, with business, there are many sets of logistics to be worked out. Certain goods need to be in certain places are certain times, and the rest has to be worked out according to that need. So not only are the drivers battling adverse weather and bad traffic, they need to do it on time and with the minimum of fuss. It's a hard job.
And whereas the 'fun' Land's End to John O'Groats route is fairly straight forward, don't forget that general haulage firms need to stop off along the route to drop goods and collect more, they need to go back on themselves before they can continue onwards, they need to go back to the beginning, and then head off in a different directions. If 874 miles straight up and down sounds tiring, just imagine doing 874 miles just around London, or the south east, let alone moving any further north.
General haulage, then, is the backbone of our delivery system. It is a logistical minefield. But it is what planners and drivers love to do – Land's End to John O'Groats and back again, with everywhere in between as a potential stop off. What's not to love?