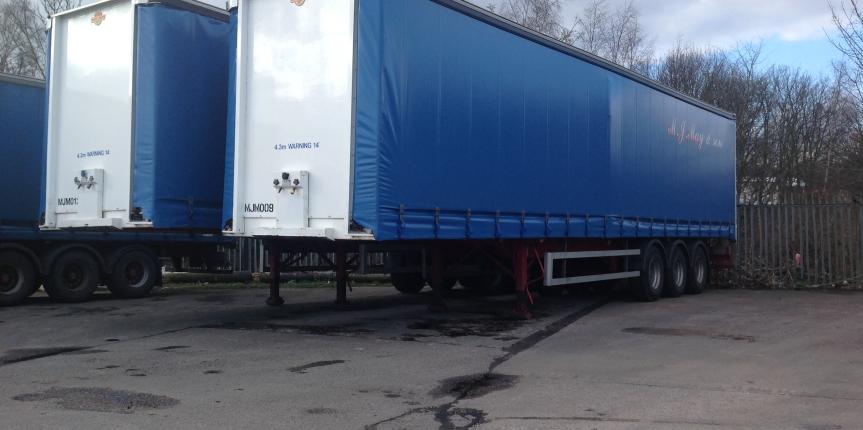 New Trailers land at MJ May Transport for general haulage services
At MJ May Transport we are constantly looking to add to our fleet of vehicles and trailers but we really do only buy the best available as we believe this approach will serve us well for the foreseeable future. When it comes to our trailers we want quality and reliability, we want to be able to offer our customers the best general haulage service available and to do this we need to have the best trailers. We recently added 2 new M&G Boalloy curtain sided trailers to help cope with growing business in a variety of sectors.
Our trucks and trailers are also a massive advertising platform for our company, many hauliers and couriers miss out here, driving around the UK with dirty or battered vehicles and trailers doesn't say much about your business, at MJ May we believe that if a potential customer sees our modern and clean livered trailers it could be a turning point in them using us whereas if a potential customer sees a dirty trailer or truck it really could be the only reason they don't decide to use that company.
As a business owner that is delivering goods to other businesses and customers you should want those goods to arrive looking as though there has been some care involved in that process and by using a company that takes care in its equipment and services you are making the correct choice.
The team at MJ May has had this ethic drilled into them from day one, it is part of the working code that vehicles are kept clean and tidy and as drivers spend the majority of their week in these vehicles it is something they really want to do for themselves and not just the company. You will find that most truck drivers want to drive the best and most up to date vehicles as they really do take pride in their work and pulling these new trailers around the UK is something each and every member of our experienced driving team is looking forward to doing.