MJ May Transport add another XF to the fleet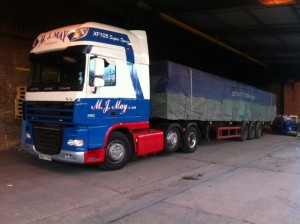 Exciting things are happening at MJ May Transport and we recently acquired yet another new truck to help us deliver our clients freight across the UK. A new DAF XF arrived in the yard last week to add to our new Mercedes Actros in January. We are constantly looking to grow our fleet with quality new and used trucks and the XF is a major player when it comes to tramping, the ultimate driver's truck and a complete driving machine. The cab is comfortable and spacious, as well as being stacked full of equipment its is stylishly finished with beautiful materials and warm colours and lighting.
From a drivers point of view, taking into consideration it will be home for most of the week things couldn't be better. After a gruelling shift up and down the motorways of the UK relaxing in the spacious and comfortable XF can be very rewarding, with plenty of headroom and space for all of the drivers belongings a good night sleep means an alert and productive driver the day after.
At MJ May Transport productivity is key, we believe in providing our clients with the very best service and to do so we need the very best out of our drivers, to do this we need to provide them with the best tools available and this means we need to keep improving our fleet on a regular basis as new trucks and technology becomes available.
We are predominantly DAF lovers but by adding the Mercedes to our fleet we are broadening our horizons, we like to test the water and see what is available on the market, our MD and Operations Manager are regular attendees at truck shows and exhibitions across the UK and Europe seeking out the latest tools, equipments and technology on the market that will allow us to provide our customers with a continued great service.