We provide General Haulage Services You Can Trust and rely on.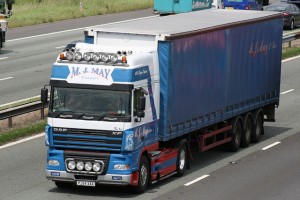 It saddens us to hear about haulage companies ripping off other businesses, especially charities, in these times of financial hardship, especially when we've grown our business on core elements of trust and always putting our clients first.
Only 2 weeks ago we read in the national press that the British Heart Foundation charity had paid out over £23,000 to a haulage company they had already sacked due to incompetence. Since we launched our business in 2003 we have taken pride in the fact that we have managed to land some blue chip contracts and continue to service these clients to this very day due to the service we provide.
Building a business and establishing key contracts is built on trust, especially in an industry such as general haulage where the competition is fierce and you could easily be overlooked by potential clients.
It is for this reason we make it our main goal and priority to ensure that any current clients and potential clients know that MJ May offer legitimate and trusted general haulage services that will deliver and meet your requirements each and every time.
As we go into our tenth year and complete our first full decade of training, we know how important it is to be completely transparent and ensure that our services carry us into the next decade and many more beyond that, through trust and of course providing a second to none range of services.
We are happy to provide you with testimonials and case studies of our work to back up why you should choose us as a trusted general haulage services provider.
Do not be left out of pocket or wondering if your trust is being misplaced, contact us today and find out why we are the best option to handle your haulage requirements.