General Haulage Companies and what they offer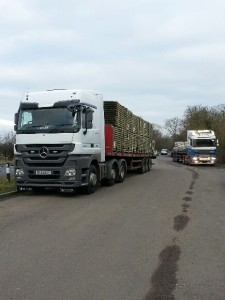 There are many general haulage companies across the United Kingdom that can service your delivery needs. You do not have to order freight delivery from a local general haulage company. Many of the national companies have created a large network of trucks and drivers across the country to service the needs of their customers but make sure you build a relationship with a reputable company that will deliver anything and everything.
By working with a general haulage company that has a good pool of experienced drivers and a fleet of reliable trucks, you can decrease fees and delivery times. The national companies are more likely to arrange a delivery in the opposite direction for their drivers, so the round trip fee is not passed on to the customer. Maybe you need tracking and up to date information for your freight, if so most companies generally have this technology in some form or another, including tracking technology to allow you to ensure that delivery is made on time to your customers.
Most traditional general haulage companies have been in the industry for a number of years and are more experienced at hauling unusual loads, so they may be more qualified to handle your cargo. The general freight companies who work nationwide are also more likely to have a license to transport waste products if that suits your need.
Building a relationship with a general haulage company is beneficial for customers because they can offer competitive prices, better national delivery service and they have a wider selection of vehicles to meet your delivery needs. When you become a repetitive customer, the general haulage companies are more likely to take care of any issues that arise with your delivery quickly.
If your delivery is delayed because of bad weather, a larger company will be able to work with you to get the cargo delivered as soon as possible. If delivery is delayed for something like mechanical issues with the delivery vehicle, the national company is more likely to have another vehicle nearby to take over the delivery of your cargo with little or no disruption to your service.