A range of haulage services to suit any size of business
It is important for any business that deals with goods that they are able to send and receive their products with the minimum of fuss. Just as important is the chance to deliver items around the country safely, even more so if they are delicate or fragile. This is why for any company working with sales of products it is important to have the right haulage company working alongside them. When choosing a haulage company to work with you in the long term, there are some things you should be thinking about.
The first thing to consider is whether the haulage services provider can offer services which match yours. For example if you deliver bulk heavy duty goods, or maybe fragile goods in smaller orders, can your haulage company deal with this? You should look for a company that will be able to take your haulage needs for the day/week and provide the service you need straight away. If the company needs to make special arrangements for one area of your business then this can take up time which will impact on your business. The later your goods can be picked up, the later your customers receive them.
You should also think about the reputation of the company you are choosing to work with and whether they are prepared to go the extra mile for you and your customers. If you are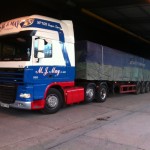 delivering within specific time slots you should go for a company which has a consistent reputation for meeting deadlines and doing what is necessary to deliver on time. Look online for reviews and make sure you don't just look at testimonials on the company's website. You are looking for a true representation of the company, which will only come from unbiased past customers.
Finally when you are narrowing down your haulage services you should speak to the company directly and see what services and deals they can offer you. If you are going to set up a long term relationship with a haulage company it would be useful to know that they will work with you so that you can get the best out of their service. See if prices are negotiable or whether the company would be willing to think outside of the box from time to time to ensure that special deliveries and services get done without you having to go elsewhere.